The following photos are of the Chicago, Burlington and Quincy Railroad Bridge which crossed the Illinois river near the ICRR bridge. The "Q" went under the IC bridge on the north shore of the river.
This branchline off the mainline at zearing IL was referred to as the Streator branch. A smaller trestle crossed the I&M canal over lock 15. The river bridge was built in the 1860's and was once the Illinois Valley Northern railroad and in the 1890's it became the C.B. & Q.
(Special thanks to those whose pictures are here below. Some pics are unknown and if you know who was the photographer, please inform me.))
The first style of lift span on the CBQ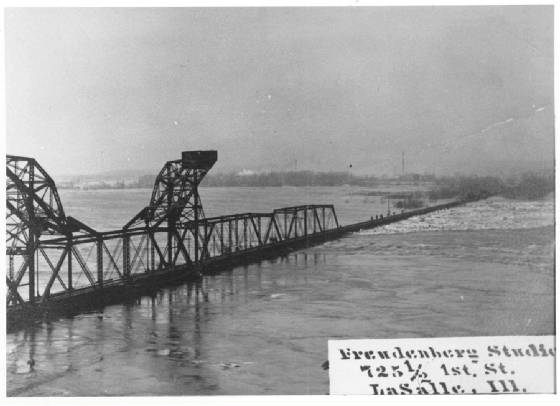 Flooded river photo taken from top of ICRR bridge looking West
The Chicago, Burlington, and Quincy Railroad bridge over the Illinois River at La Salle, Ill., as originally built, consisted of five 148-ft. pin-connected truss spans. It is a single-track Pratt structure, each truss having six equal panels. The United States Government required that a movable span be provided with a clear headway of at least 40 ft. above high water level, when open. It was decided to make one of the fixed spans movable in the manner outlined in diagram below. The maximum lift is 32 ft. Towers, having front vertical columns, were built at the channel ends of the span.
Located 'bout200ft west of Illinois Central bridge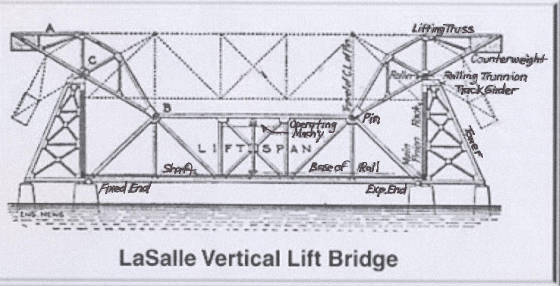 Thanks to Eugene Smania for locating this info.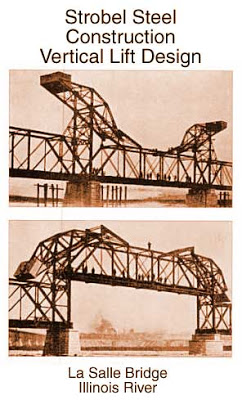 The old CB&Q bridge seen above was put in place in 1913. It was replaced by the one below in 1933. On Sept 29 1961 the bridge was struck by a barge and the CB&Q RR rushed to fix it. The track was knocked six inches out of line. In 1980 the CB&Q bridge would be dismantled and the railroad branch abandoned from La Salle to Streator.
The 2nd style of lift bridge on the CBQ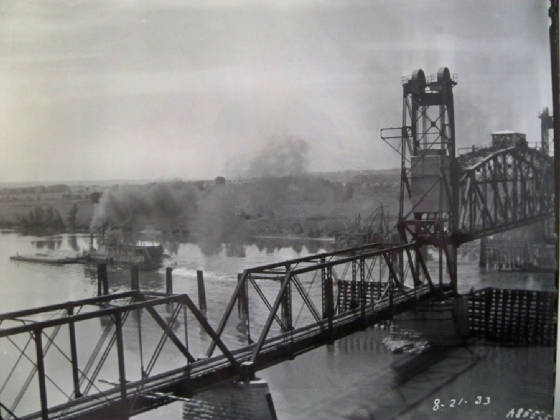 looking NW on Aug 21 1933
Waters were high again on the Illinois river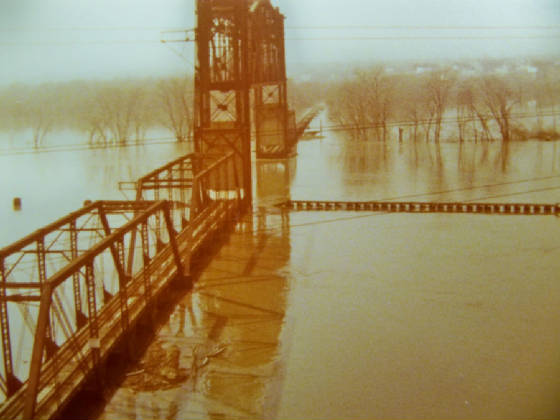 Notice men standing atop lift span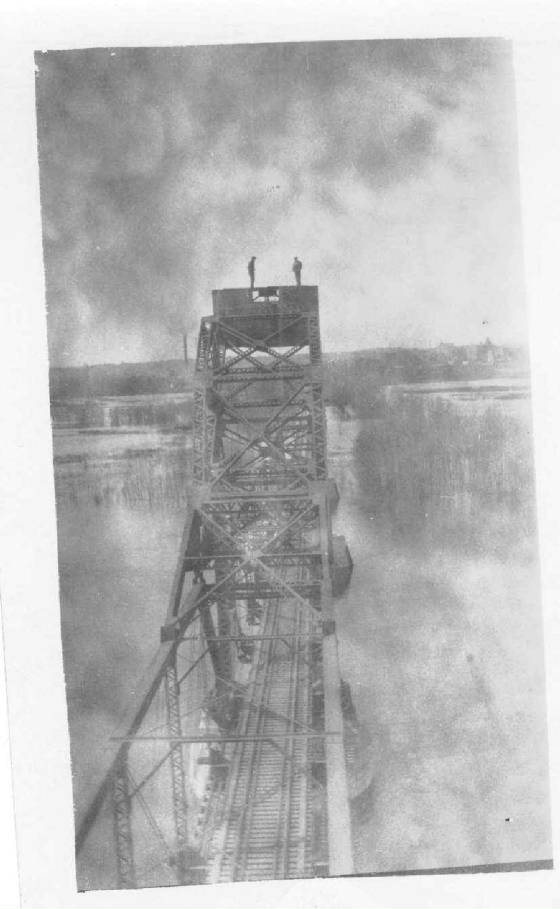 I believe this was the first style lift span in this photo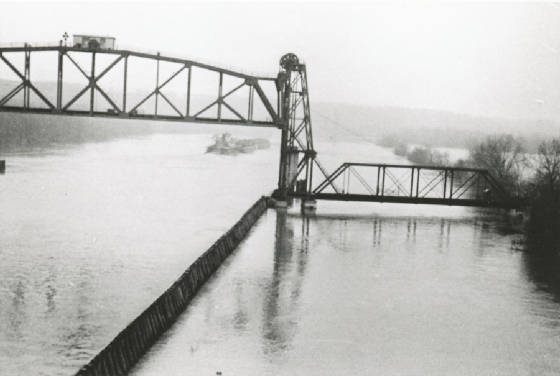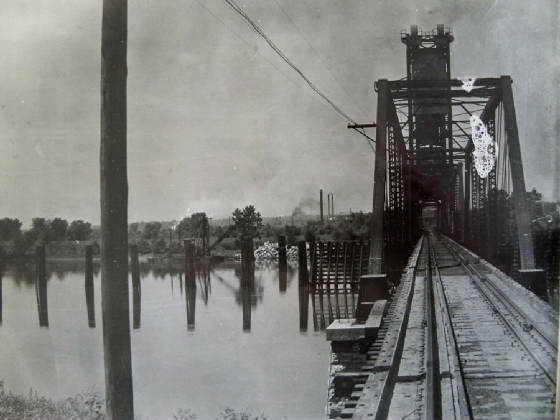 Here below are pictures when the bridge was being removed in 1980. The river was shut down for 48 hours to barge traffic.
Moving barge in place to remove span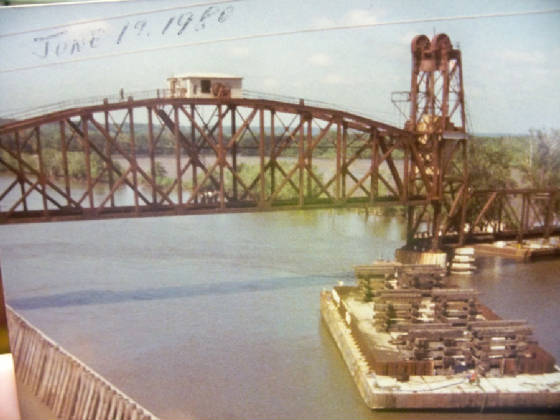 1980
Barge is in place to unfasten lift span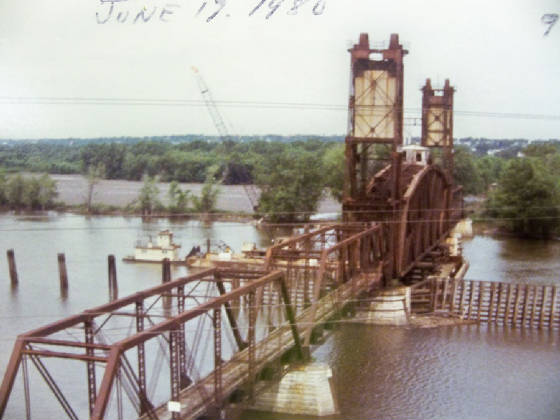 June 1980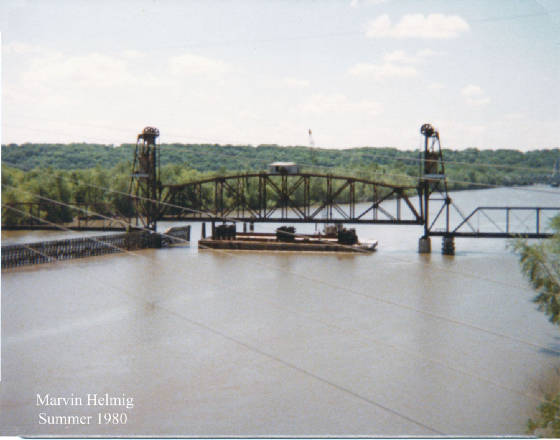 C.B. & Q. Bridge over Illinois River at La Salle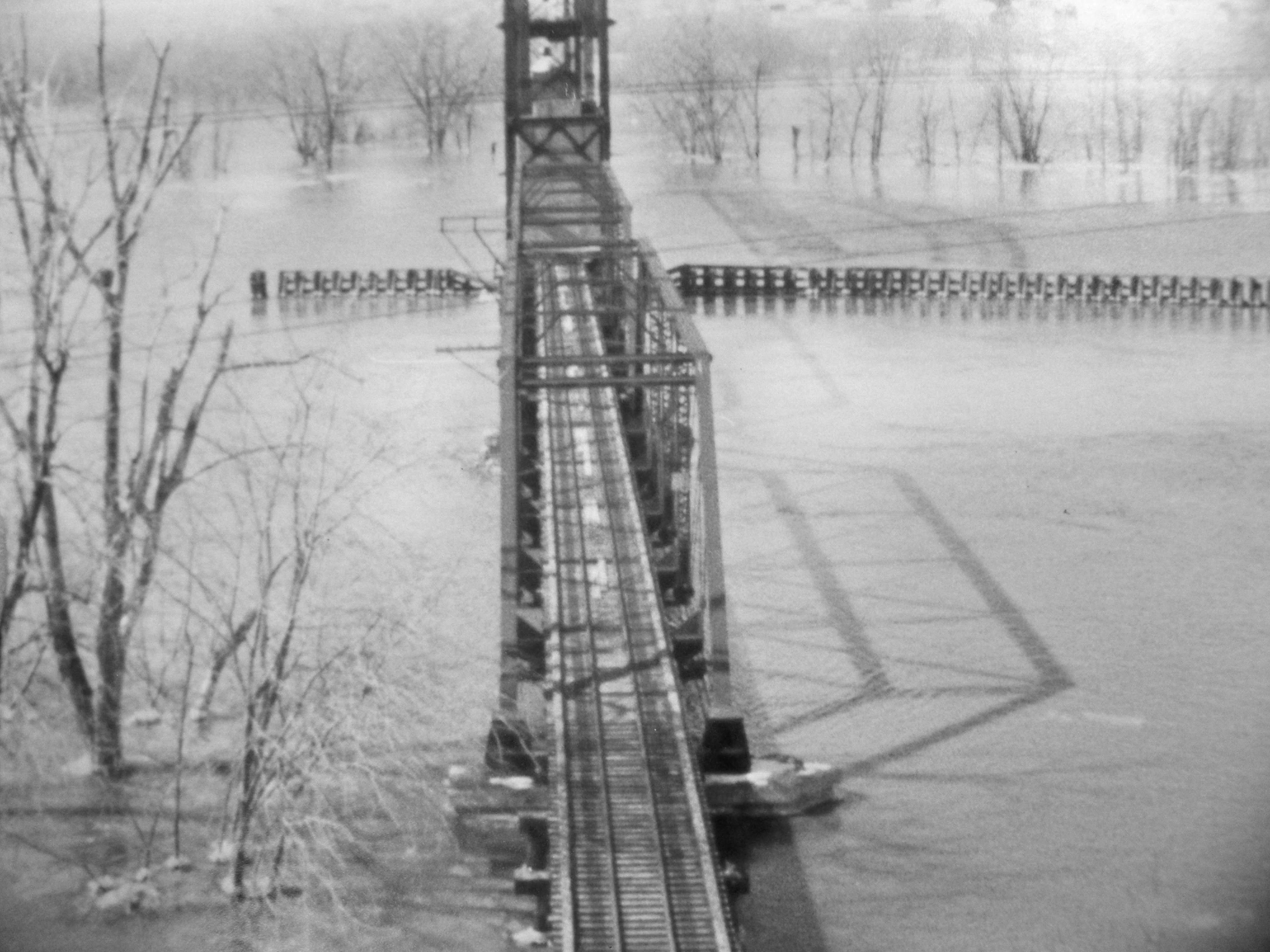 Photo from atop ICRR bridge
CBQ bridge plans at LaSalle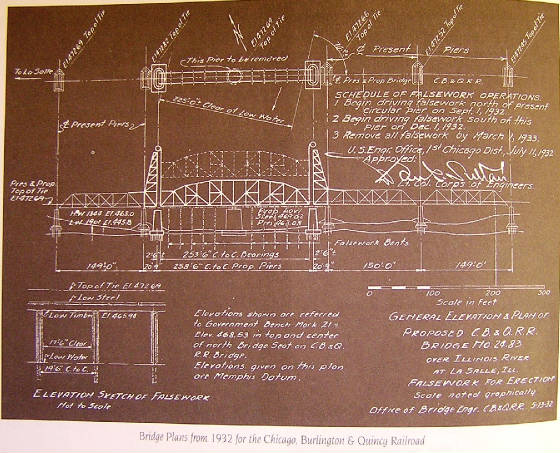 From the ICRR bridge this was the view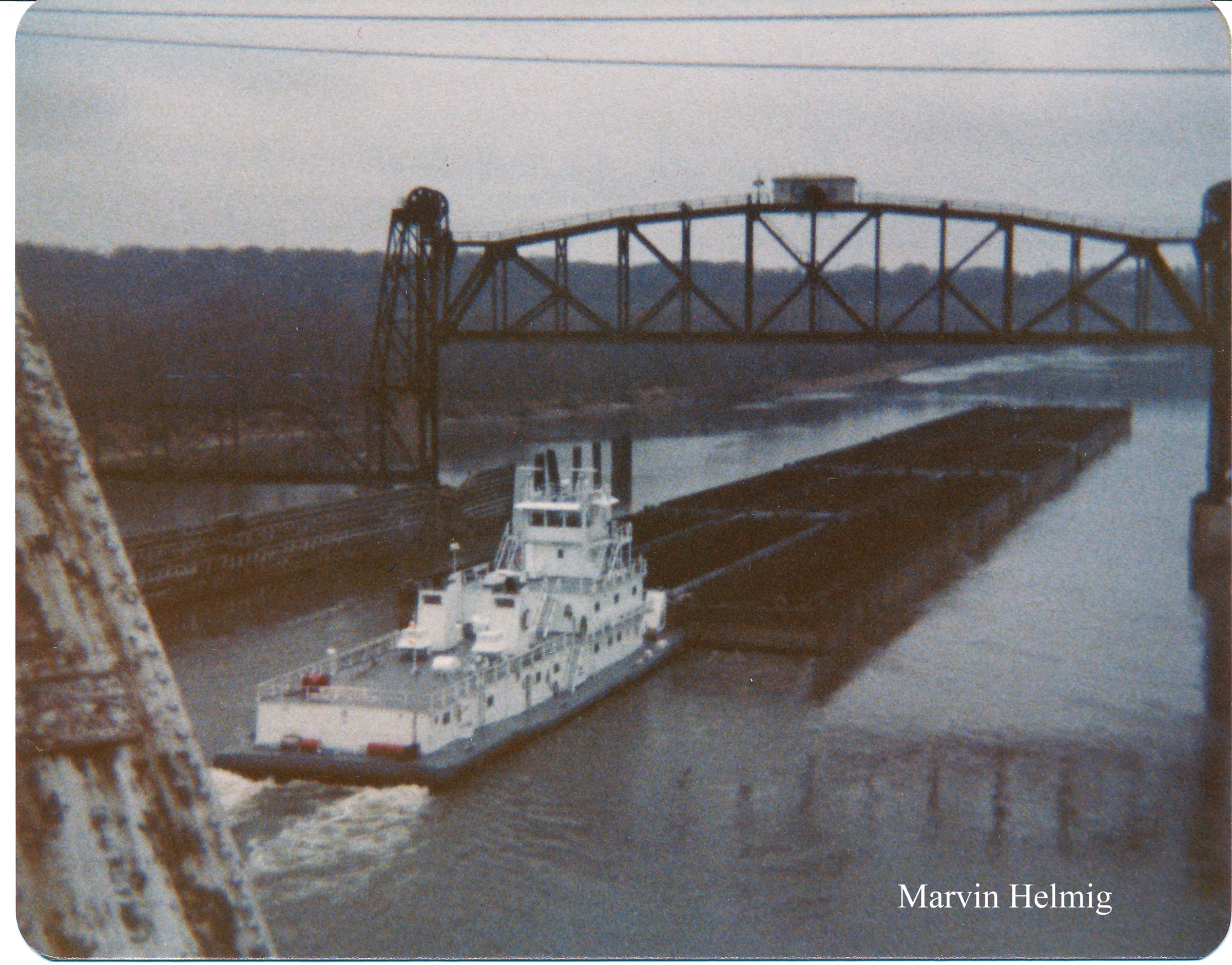 Barge passes under CB&Q bridge 1980
1980 CBQ Bridge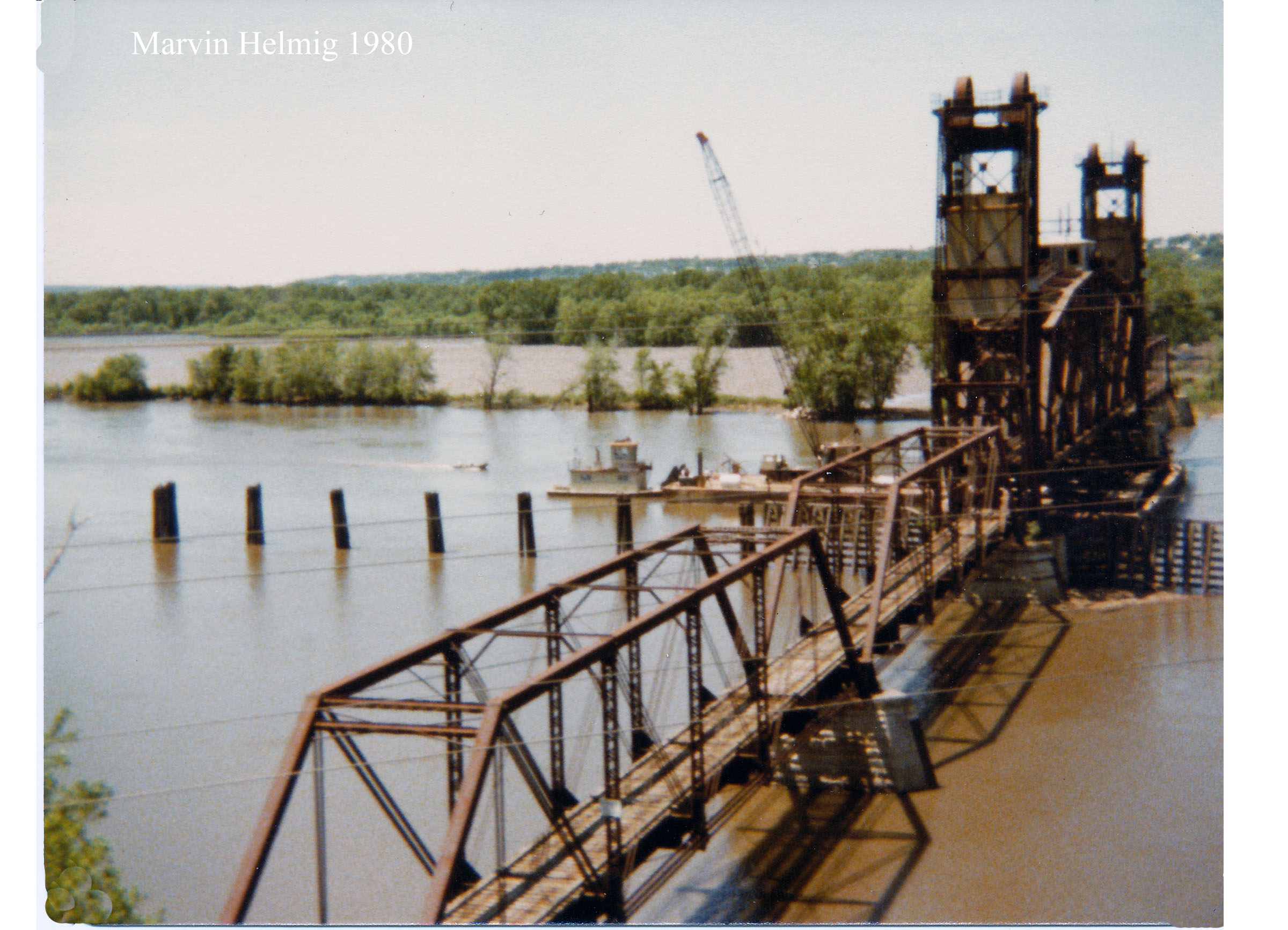 Taking the center lift span out 1980
1980 Building a temp road to take out spans