To View a Mendota Timeline, scroll toward bottom.
Mendota IL early 1900s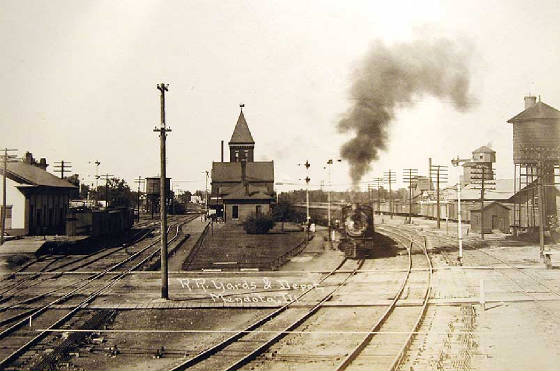 CB&Q train heading West
Looking North on ICRR side of depot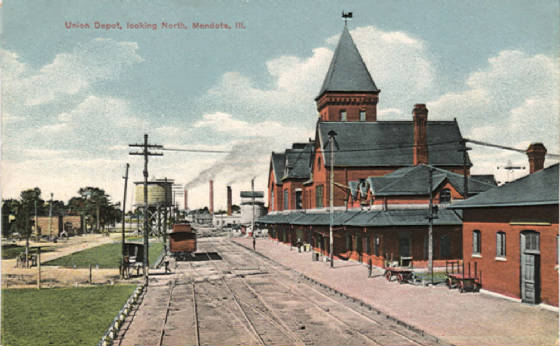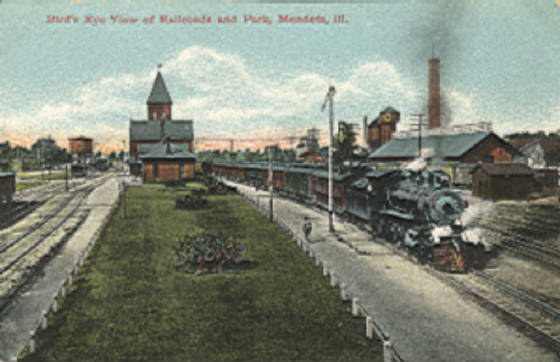 Mendota Looking North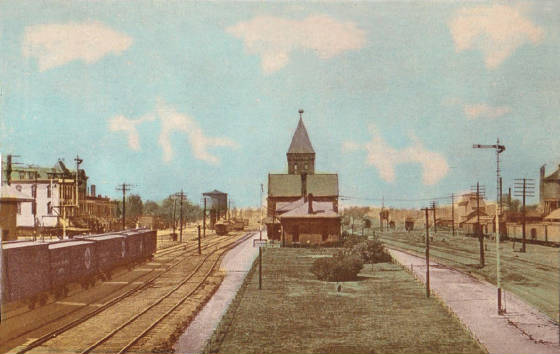 IC tracks at left and CB&Q on right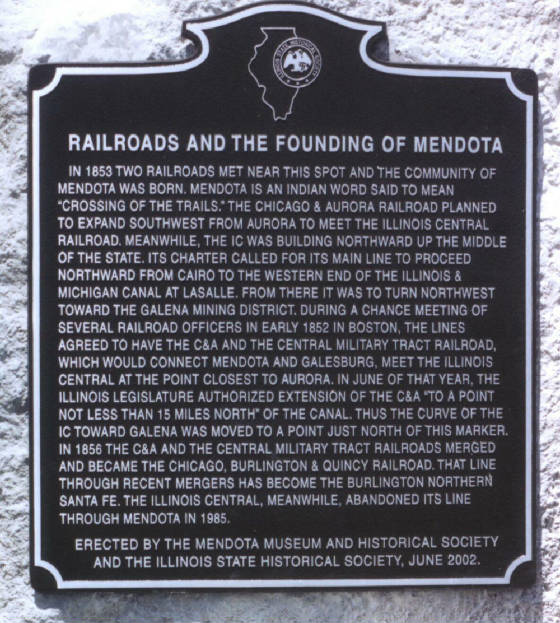 Photo by Muzzi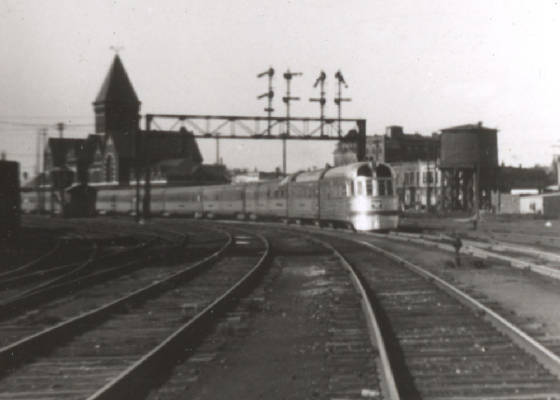 From the L. MUhlach collection
ICRR Interlocking Tower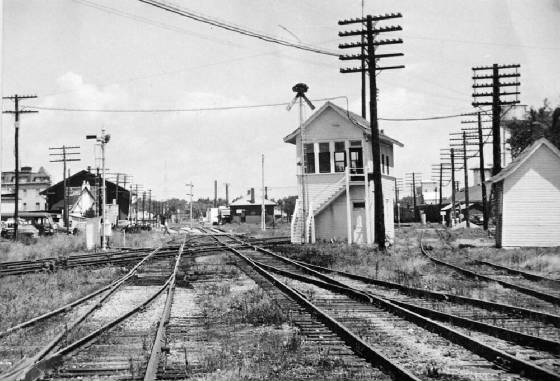 MS Tower looking west on CBQ main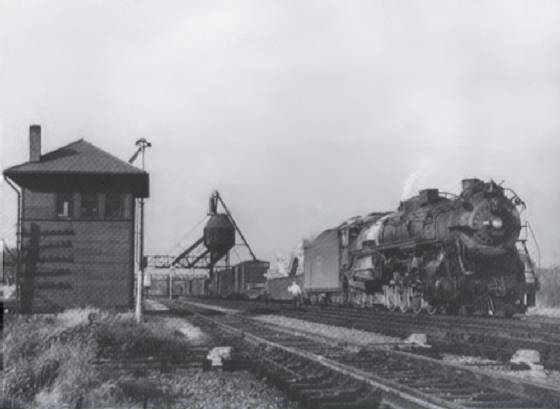 This tower was near del monte factory
Coal Tower near 1st ave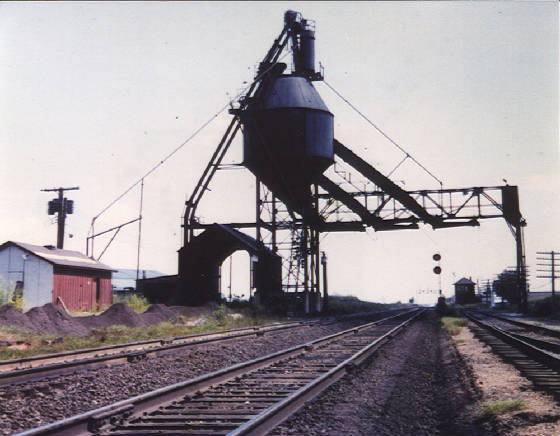 See the MS Tower in background on right side of tracks
early coal shute at 1st ave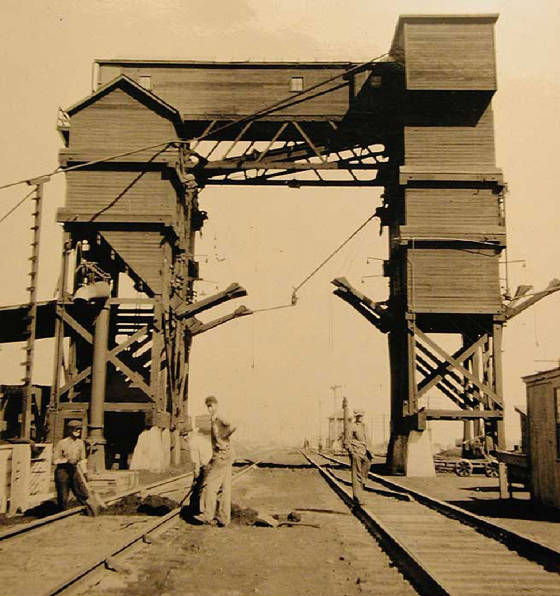 See MS tower in Background
CBQ train in front of Passenger hse early 1880s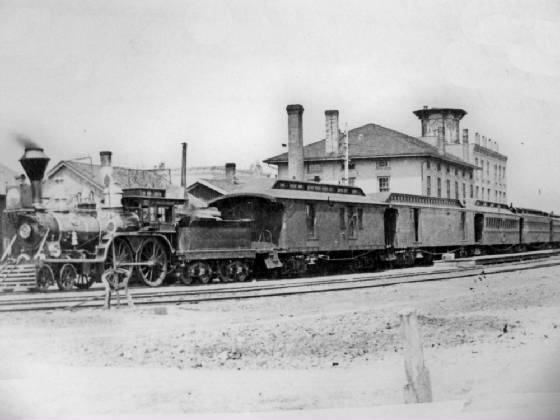 This depot burned down in 1886 and was replaced by the Grand Union Depot in 1888
Looking north on IC tracks toward Passenger hse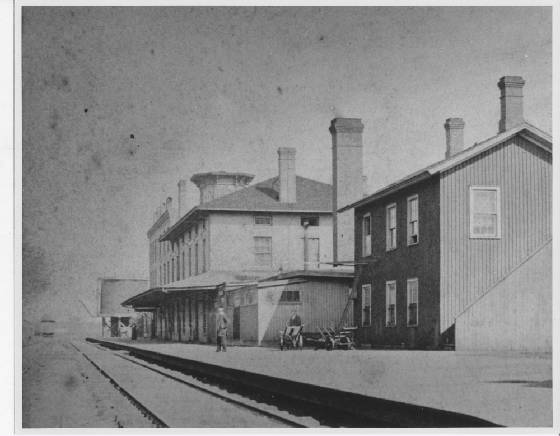 1880s
The new Mendota Union Depot built in 1886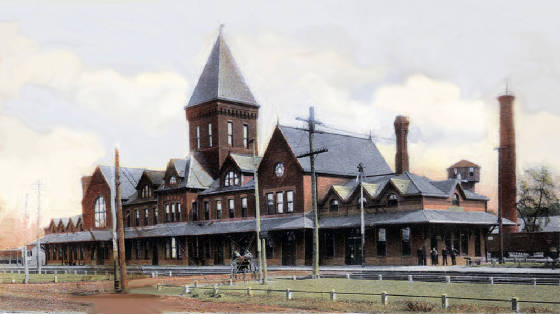 Another view of the depot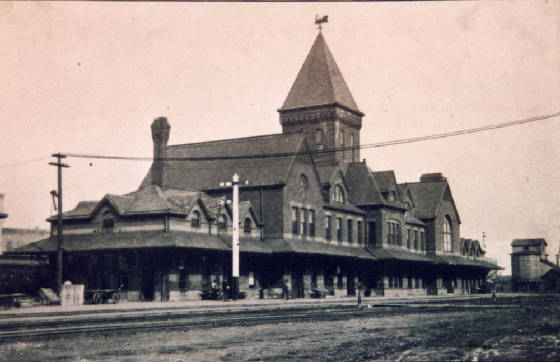 The CB&Q Roundhouse at 1st ave Mendota IL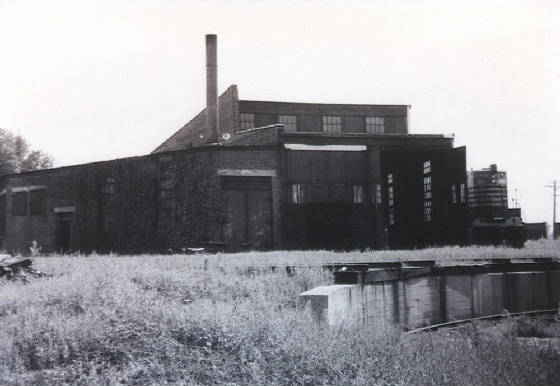 1960s
Trying out one of the first Diesels in late 1930s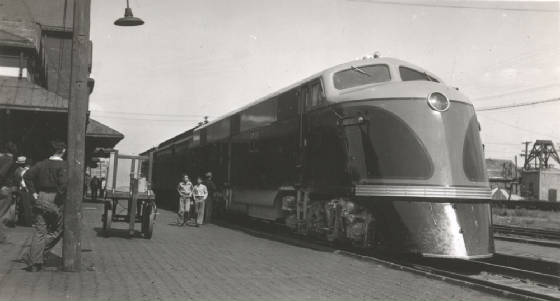 Leo Muhlach collection photo by Muzzi
Ic Passenger hse in Mendota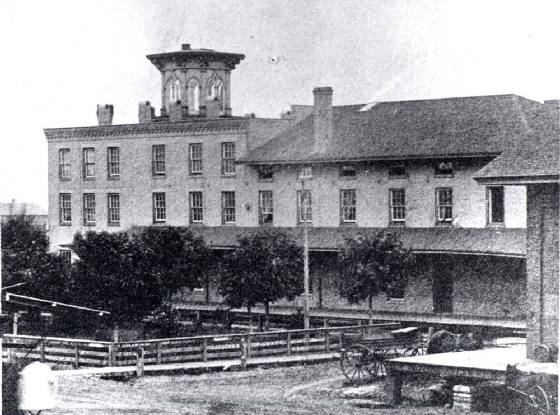 Notice the IC freight hse on right still stands today and is the whistlestop restaurant 2013
Tearing down the BN tower on Feb 29, 1980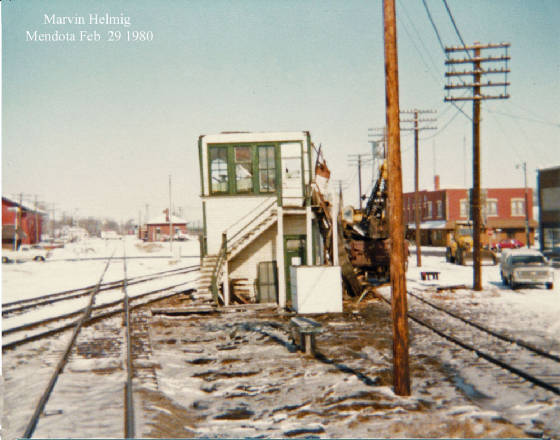 Photo by marvin Helmig
Looking South from IC tower Mendota IL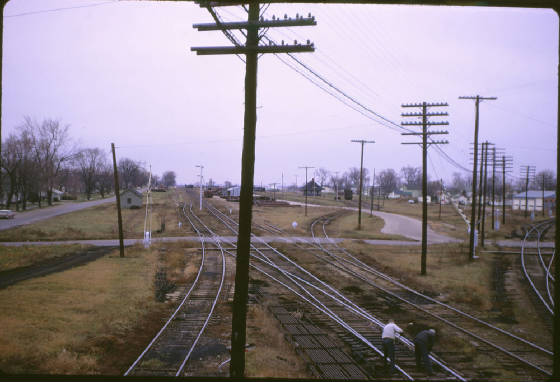 Photo by Arnie Burchardt 1970
Taken from steps of the Tower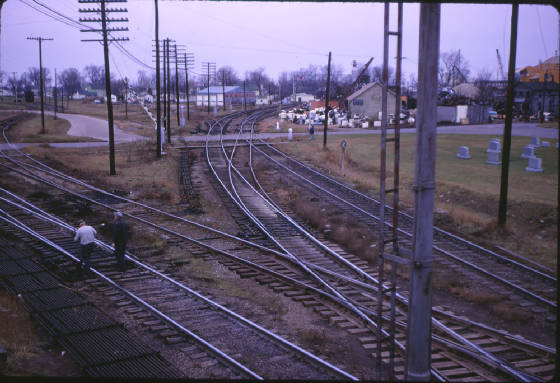 Photo by Arnie Burchardt late 60's to 70
Looking north from Tower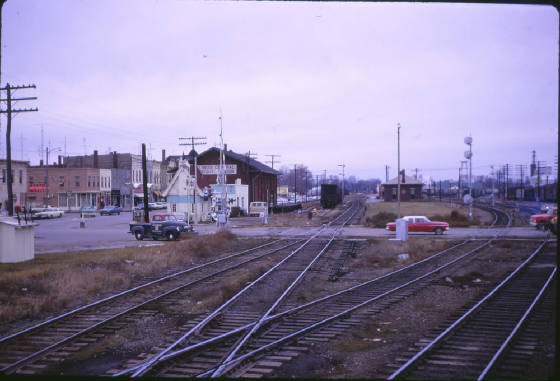 Photo by Arnie Burchardt
Our front yard in Mendota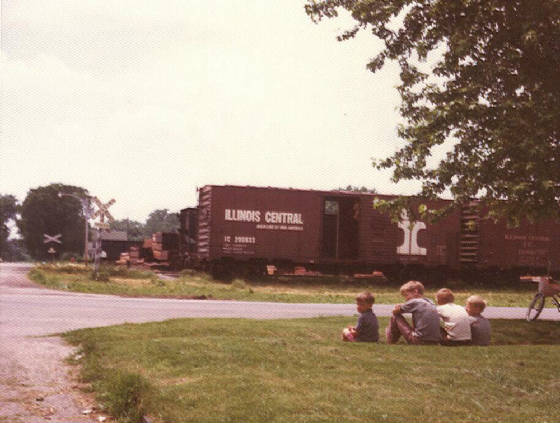 I am sitiing second on left in 1975
Track behind Black Bros which crossed 5th st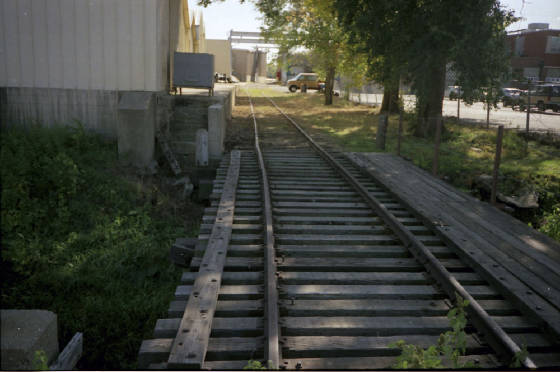 and a trestle went over the creek. Photo by Ray Tutaj 1989
The ICRR abandoned the line in 1986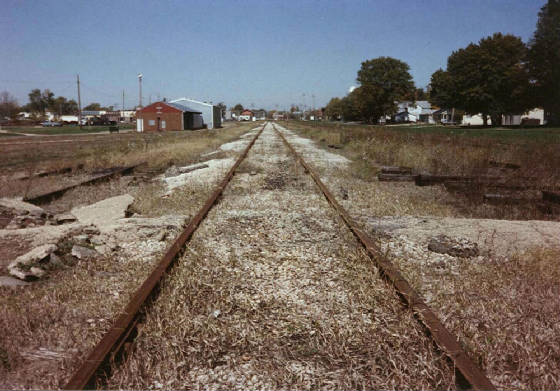 Hard to believe 162 years of railroading was over. Ray Tutaj photo
In 1984, the final years of the ICRR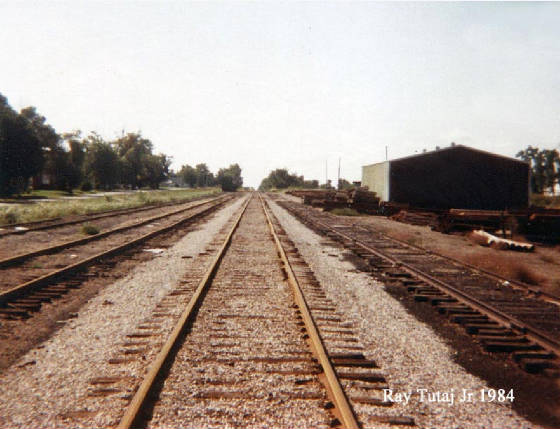 The tracks I walked many times to town.
I was too late to take pictures of the railroad action. Even though I grew up as a teen right next to he IC and Milw railroads, and seen over a thousand trains from 1973 to 1981, I never got any action shots. I was not into photographer then and regret it terribly. All the images I seen when I was a kid were incredible. I thank all those who did capture the action. It brings back many memories. I did however get a few track shots before the tracks were torn out.
Abandoned ICRR in Mendota 1986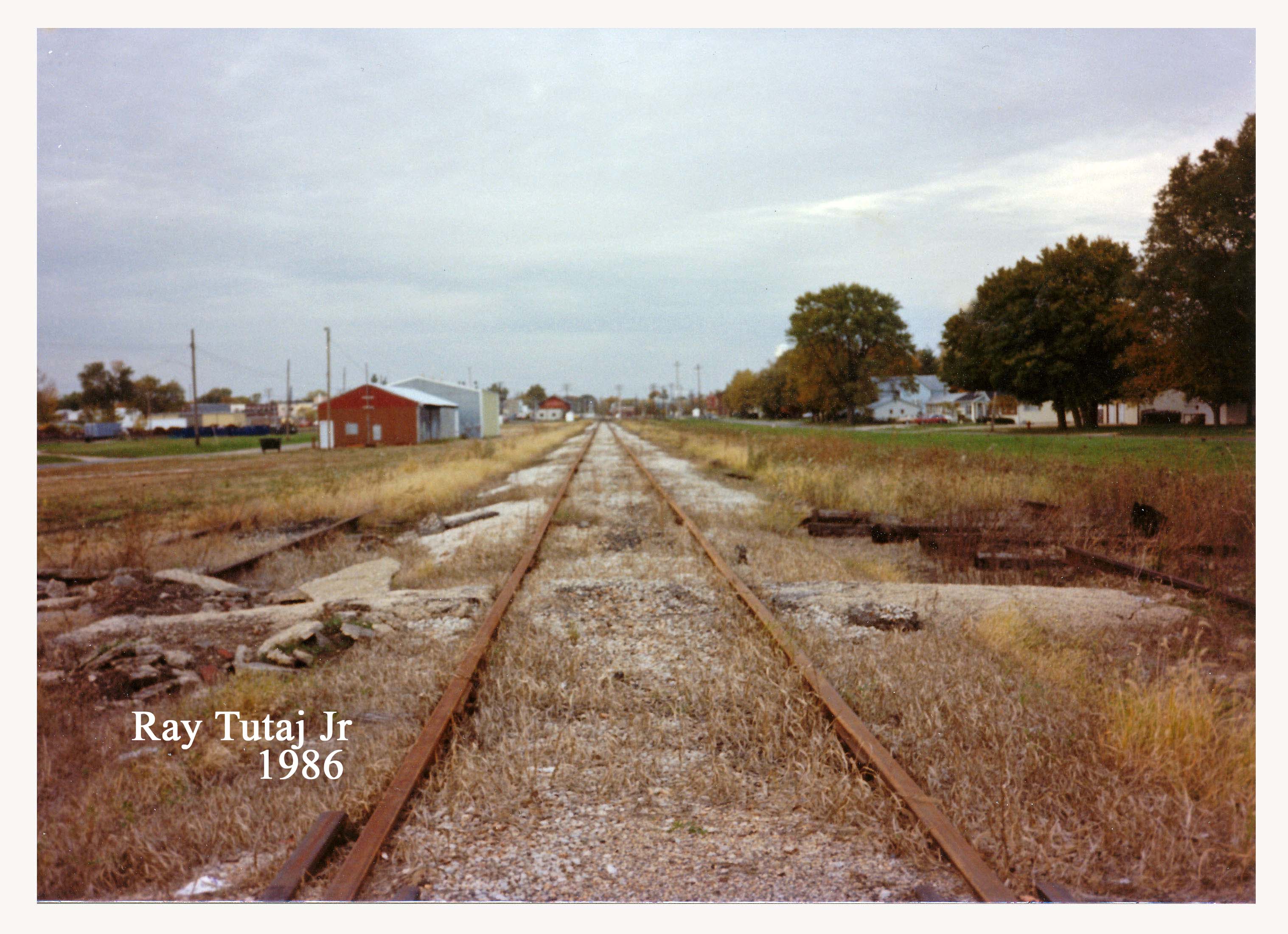 Photo by Ray Tutaj Jr.
Depot in 1994 three yrs before museum began
Photo by Ray Tutaj Jr
Totally transformed! As you view the pictures below and compare them you will see the huge difference. Mendota was on the verge of dying it seemed back in the early 1990's. Today we have three museums, a vibrant Amtrak station with six trains daily as of 2013. The depot grounds include 4978 and caboose, the Milwaukee Road Combine car, The Diner, the IC highliners and incredible exhibits in the museums.
The HO scale layout room is one of a kind in the area. My part in it was I built the model replica of Mendota. Then years later Dave Beck donated his model trains and now the room has two layouts in one room. If you love trains, you will love the Mendota Railroad Museum.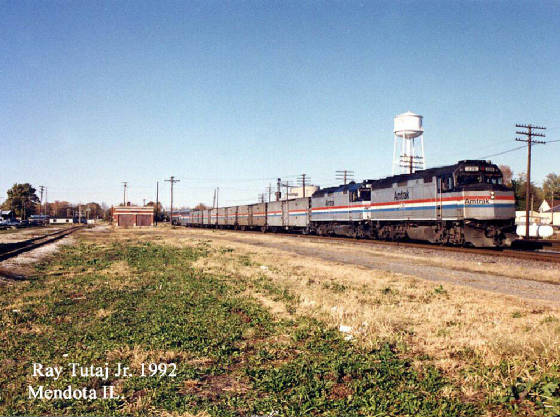 Mendota IL 1992 Photo by Ray Tutaj Jr.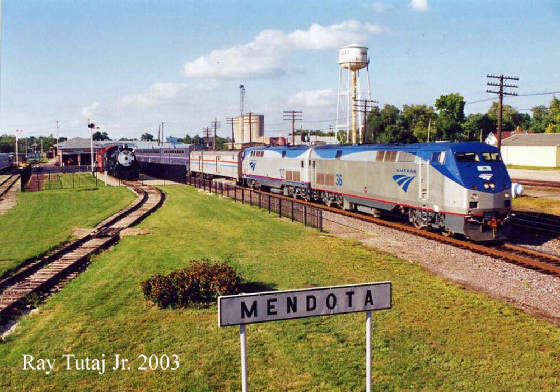 Mendota IL 2004 Photo by Ray Tutaj Jr.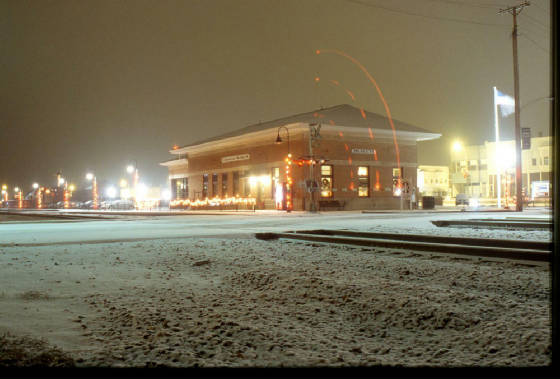 Mendota Depot at Christmas Pic by Ray Tutaj Jr.
Let me say this: The volunteers in Mendota made the museums what they are today! Here are pictured many of them in 1998-99. An incredible team that did an incredible amount of work. Visit the Railroad Museum and see for yourself!
The Volunteers at Mendota 1998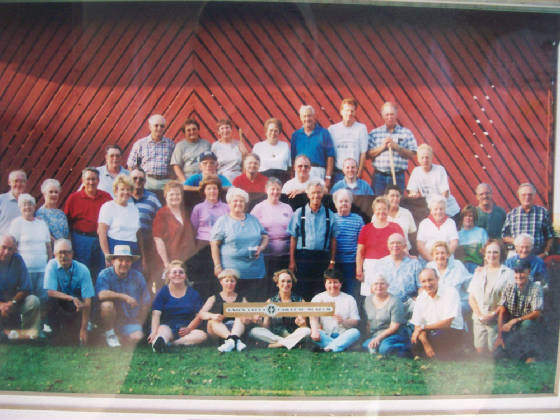 Photo by Harry Schaller
Tracks near depot in Mendota 1900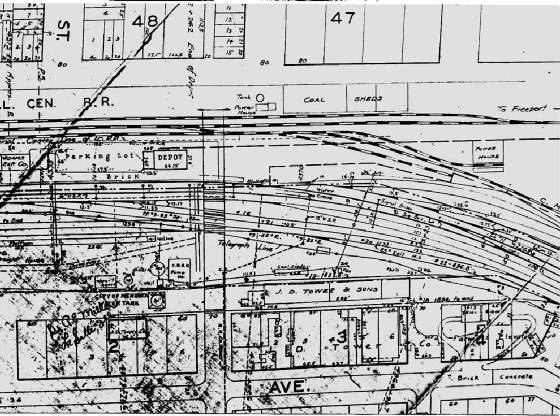 8th st crossins run vertical at left. Main st horizontal
Tracks near 8th st crossing in Mendota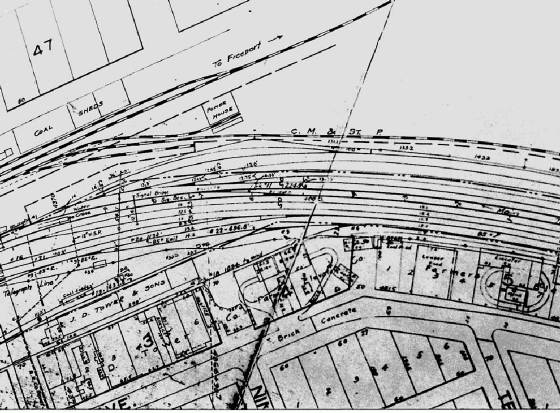 Notice ICRR and C.M &ST. P RR
ICRR passenger train 1930s at Union Depot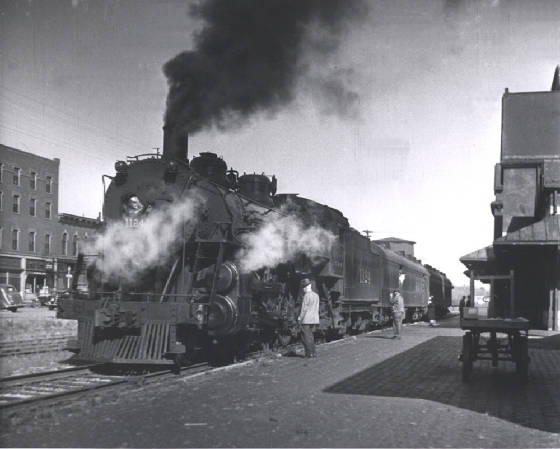 Leo Muhlach Photo collection
Illinois Central passenger train at mendota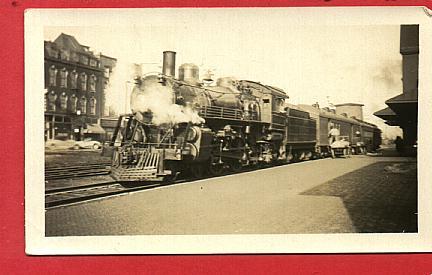 In 1939 the ICRR stopped passenger service in Mendota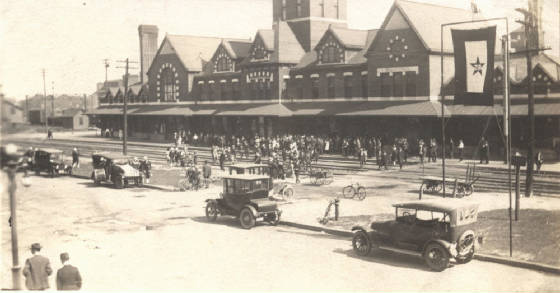 Looking SW from 8th st toward CBQ bldgs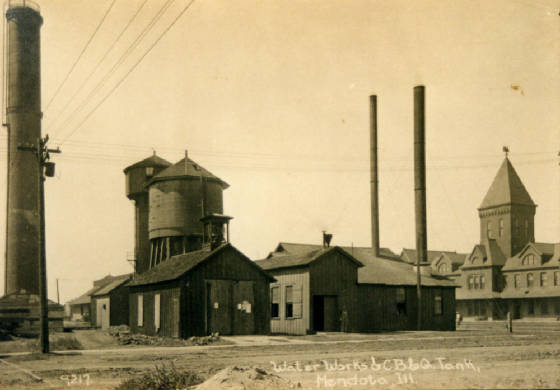 CBQ Coal Shoot from 1st ave looking east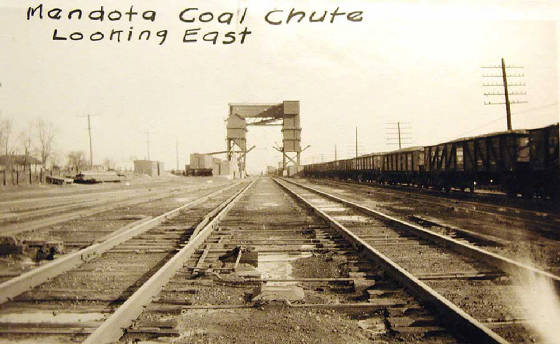 This is the Illinois Central Railroad bridge north of town in 1938. The view is looking north and was located just near the intersection of Rt 51 and 52 which goes to Amboy and Dixon. The railroad ran along side Rt 52 all the way up to Amboy. You can still see some of the old right-of-way today, especially the deep cuts. The ICRR had to ascend out of Mendota and it was a bit of a grade upwards.
Illinois Central overpass Mendota north end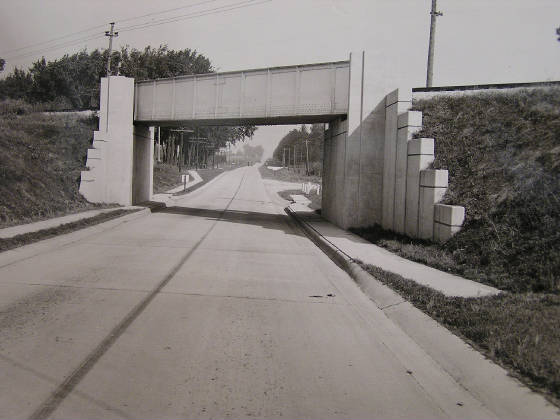 1938 Art Kistler IDOT photo
CB&Q/BN/BNSF bridge south of town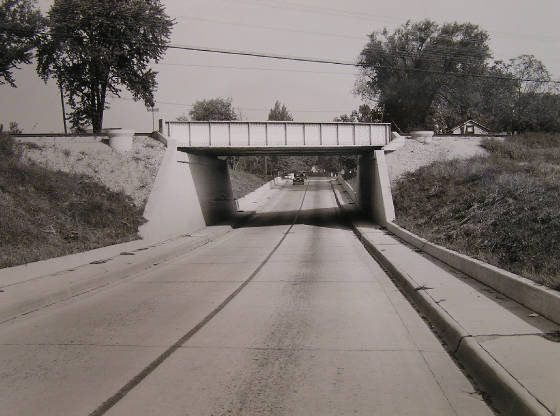 Photo by Art Kistler of IDOT 1938
1935 view before bridge underpass (CB&Q)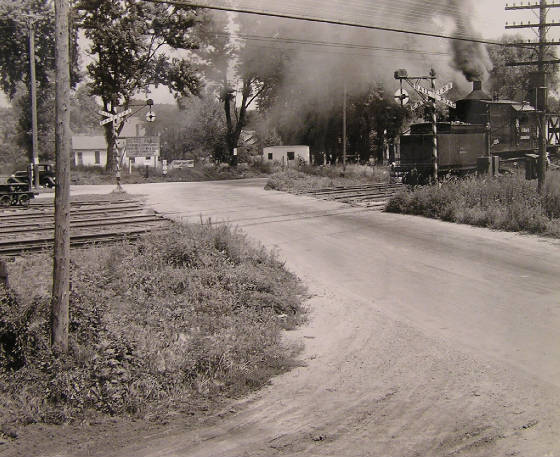 Mendota South end Rte 51 Art Kistler IDOT
When there was no underpass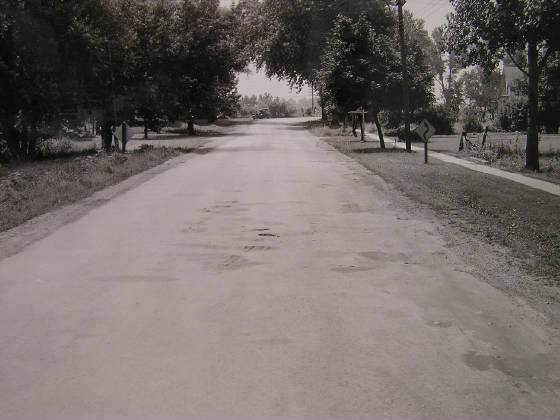 1935 Looking South Rte 51 ARt Kistler IDOT
Hotel Faber was torn down in 1980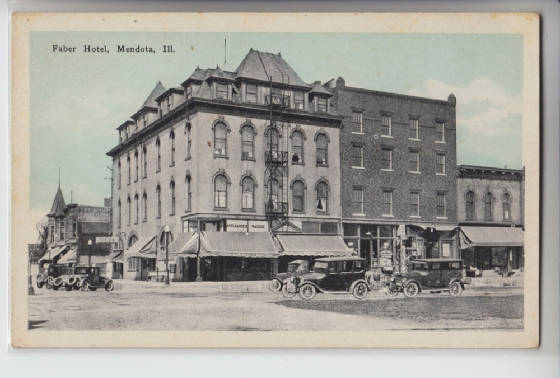 circa 1920's
Hotel Faber in Mendota IL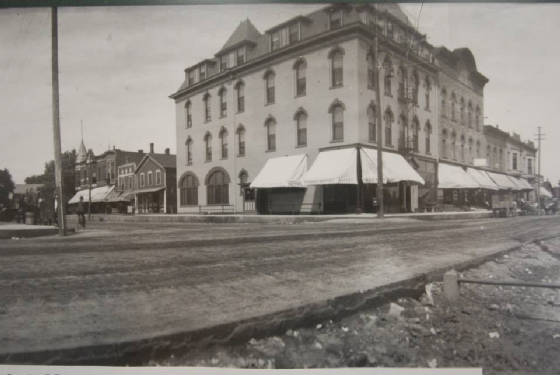 Early 1900s
Hotel Faber seen on right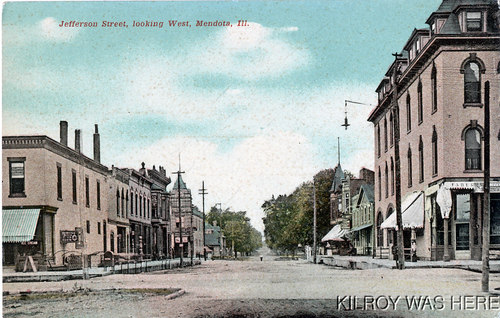 Mendota IL CB&Q Coal Shute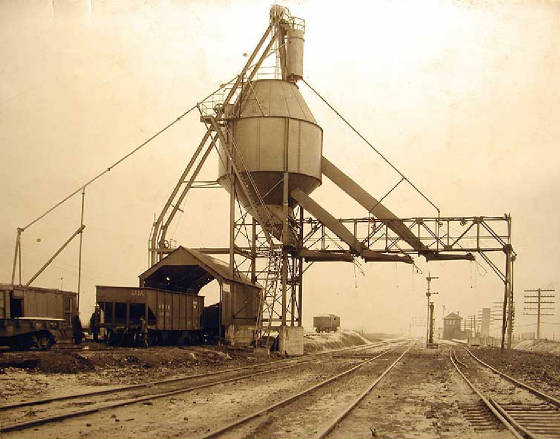 In the area of 1st avenue crossing NOtice Switch tower in background
Illinois Central Freight House in View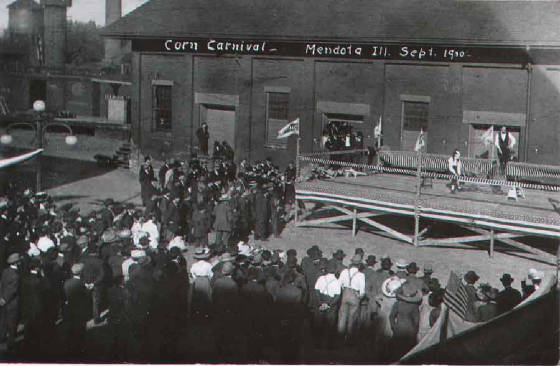 Mendota Illinois 1910
List below compiled by Ray Tutaj Jr.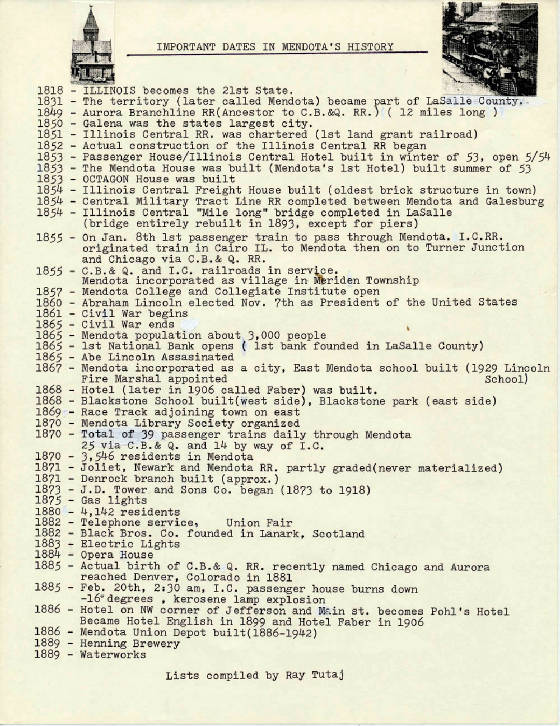 Mendota IL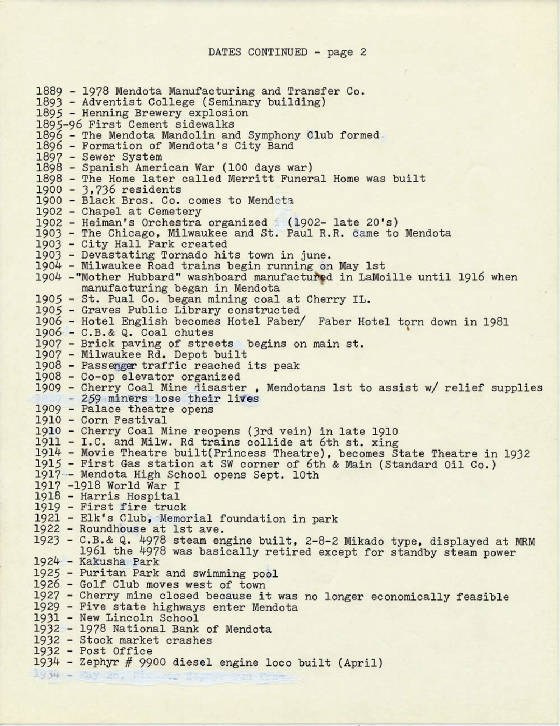 Mendota Timeline compiled by Ray Tutaj Jr.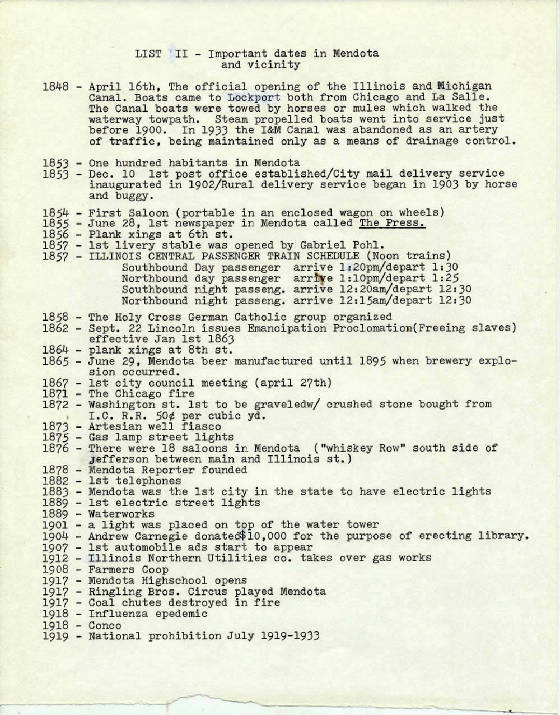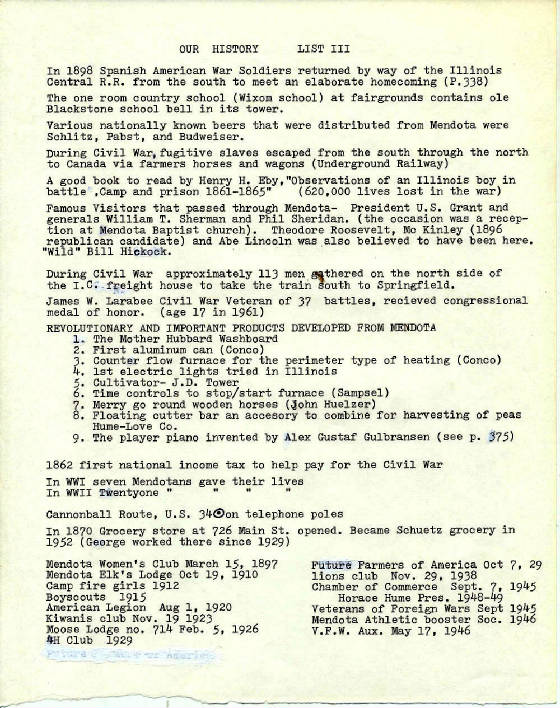 CB&Q Seven Stall engine hse near 1st ave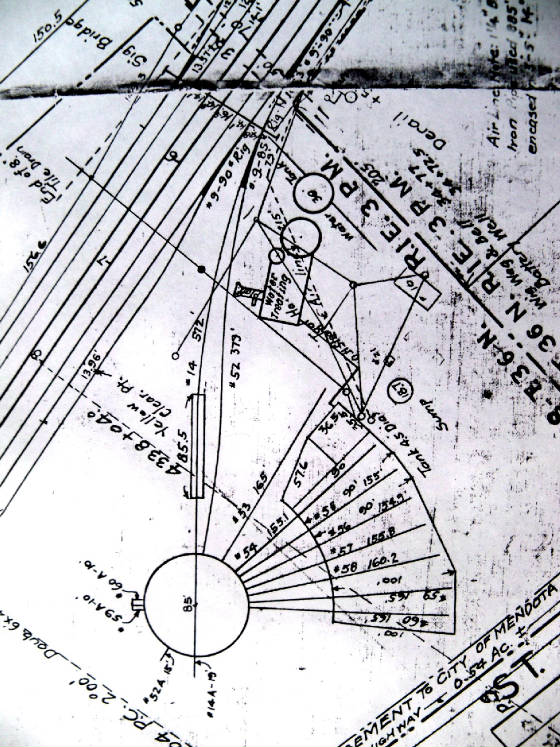 Mendota Crossing of all three railroads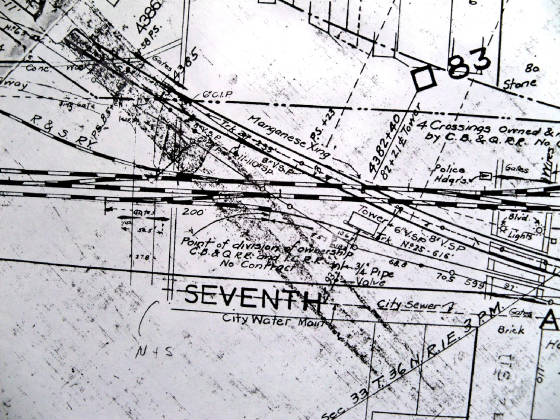 Notice the R&S RR (Milwaukee Road)
Mendota Tracks near depot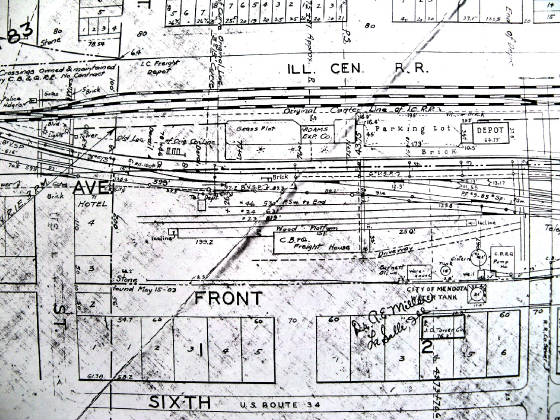 H D CONKEY factory on CB&Q main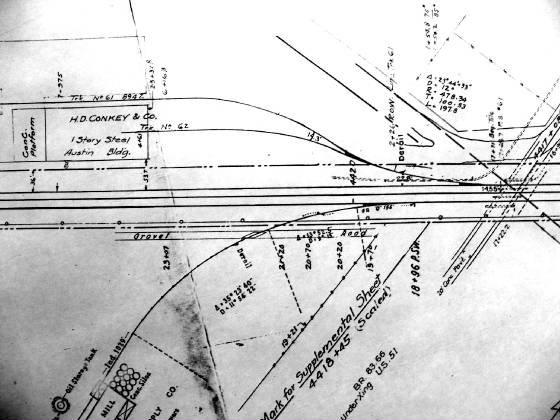 Mendota IL near Rte 251 (old 51)
Crossing near Black Brothers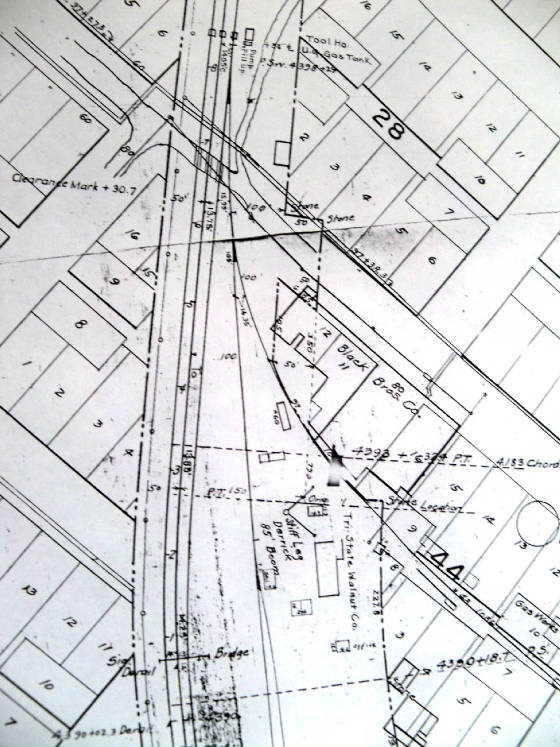 Mendota IL
Mendota Crossing with Tower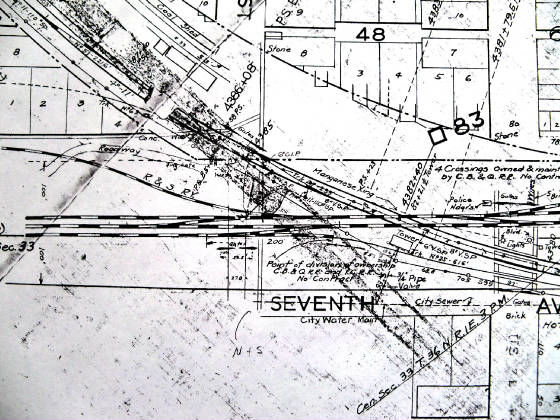 The crossing of the trails
Del Monte siding on CB&Q mainline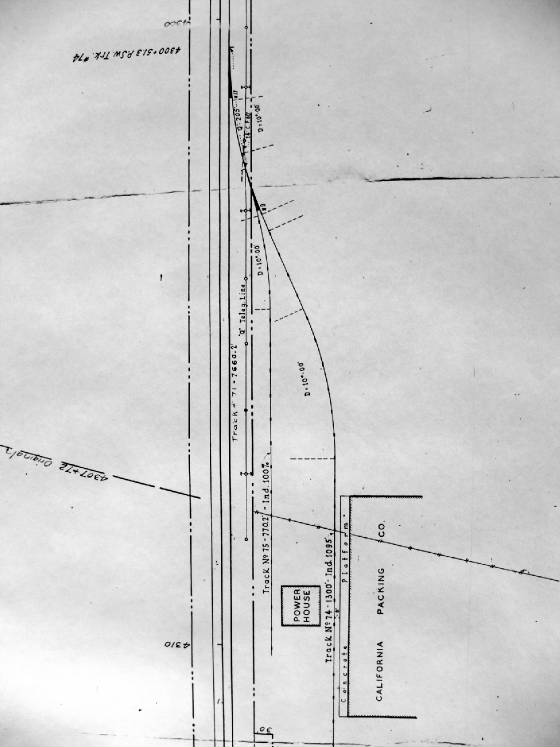 Mendota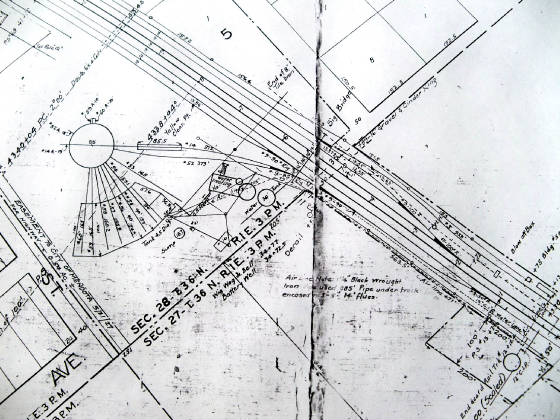 First Ave area near CB&Q Engine hse