Dear Ray,

My name is Tom O'Shea and John Flood was my Great Uncle. As you probably know, he was known as the Scotch Merchant in Cherry at the time of the disaster. He was in his store when he heard the whistles blowing and rushed to the mine. Thinking his brother Jim was trapped, he went down on the cage three times bringing up miners, and burned to death on his third attempt (I have a copy of his death certificate that states death due to burning). His brother Jim was not in the mine at the time and survived, however; there is indication that his other brother, Thomas Flood my Grandfather, was down there at the time. I have a Post Card printed for the 85th Remembrance of the Disaster with the quotation "The Flames Caught Us" -Tom Flood-Miner. I'm in my late seventies and Tom Flood died in the Great Flu Epidemic in 1918, a few years before my birth. I don't ever recall hearing, thru the years, that he was one of the survivors. I don't know if you have a listing of the survivors, which would really help solve this question. We always thought John's brother Jim was the only one in question. I would appreciate hearing from you. Your Website is GREAT.

Thanks, Tom O'Shea

John Flood's Death certificate along with a copy of the Carnegie Medal awarded to him for his heroism are here below. Thanks to Tom for sending these precious items.
John Flood's Death Certificate.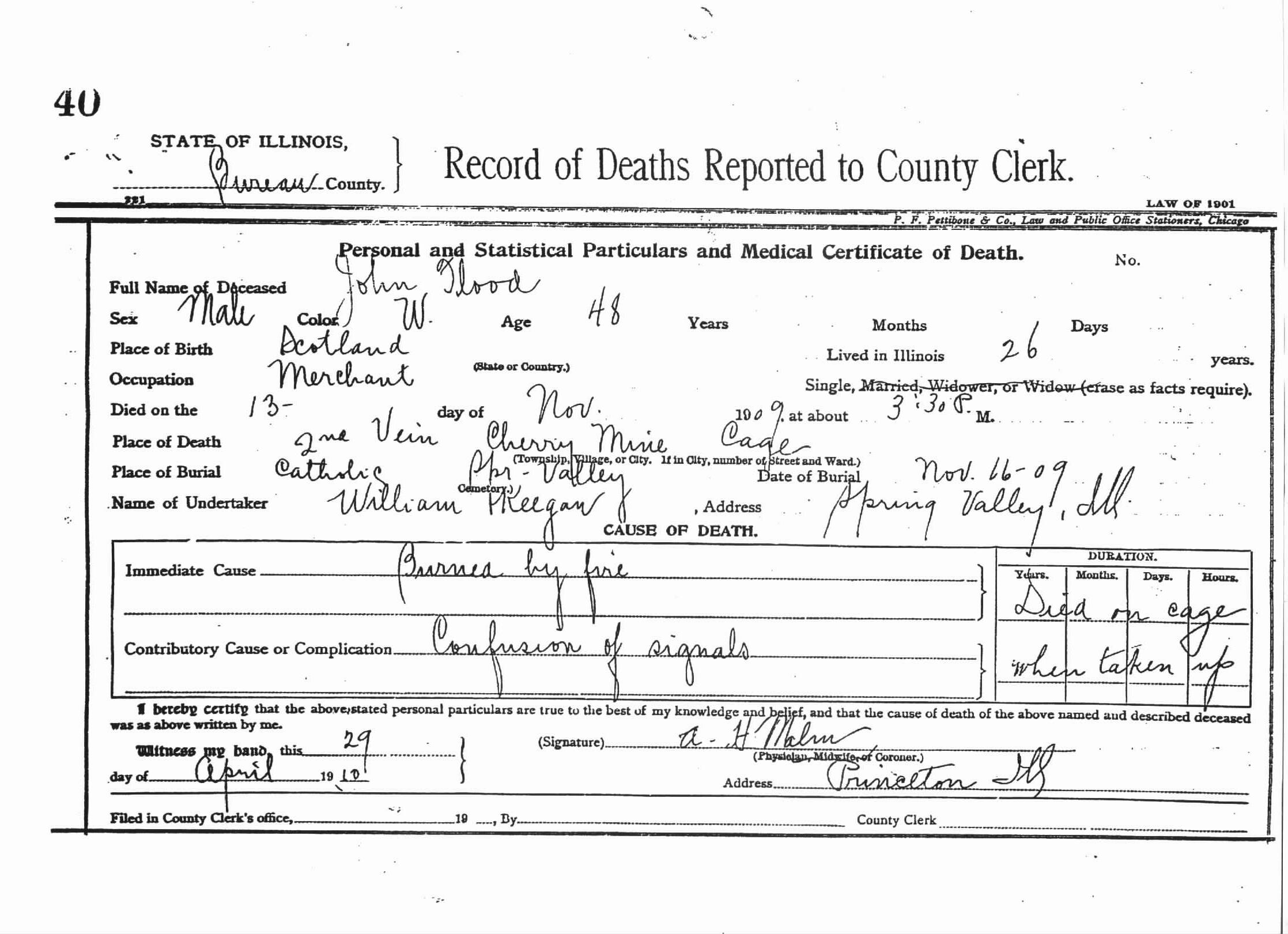 Carnegie Medal of Honor case no.

Copy of Carnegie Medal of Honor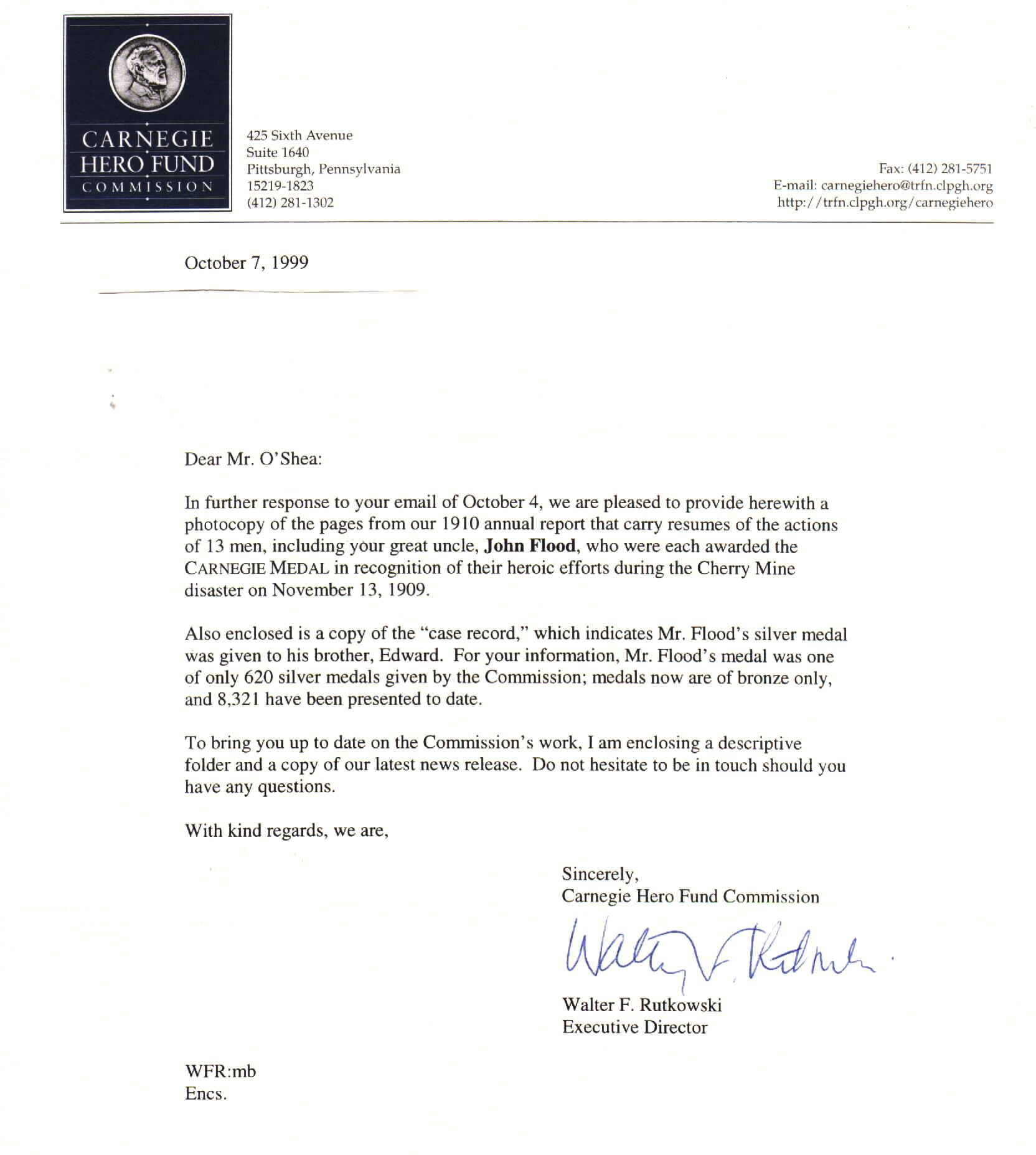 Hello-
I love your website. I am sure this is a very busy time for you as you approach the anniversary. I am a descendant of the Flood family ... John Flood's brother, Patrick (Paddy), was my great grandfather. He was also a miner, living in Spring Valley. His sons, Harry and Tom, were mule boys at one time. Interesting to note is that Patrick Flood's wife was Margaret O'Rourke Flood, and her sister Catherine O'Rourke was married to John Mitchell, the early president of the UMWA.
I do not live in the area, so it is difficult for me to do research. Ever since I learned about my "hero" Uncle John, it has been a puzzlement to me that no photos have been posted of John Flood's funeral or of his surviving family members. It seems to me that with the media circus surrounding the disaster, that the funeral of a hero would have been covered in the newspapers, but I have not found any accounts. John is buried in a family plot in Mt. Olivet Cemetery in Spring Valley.
If you should come across any new information about John Flood, or his brothers James and Thomas who were said to be working in the Cherry Mine, please contact me when it is convenient. John's sister, Alice Flood, was married to John McDonald. They had a son named Charles McDonald, and I do not know if he was the miner mentioned on page 56 of the book TRAPPED. by Karen Tintori.
By the way, John Flood was a miner in Scotland as a boy. The family came to the USA in the 1880's and worked in mines in Pennsylvania before moving to Spring Valley. John is listed as a miner on the 1900 & 1910 censuses. He and his 2 oldest brothers, Edward (Ned) and Charles, bought property and opened the clothing store as their ticket out of the mines. John was not unaware of the dangers when he volunteered to go down with the rescue team.

Valerie Kuehn
Cherry MIne Disaster