How to contact me: gjourney1@yahoo.com or phone: 815-200-5992.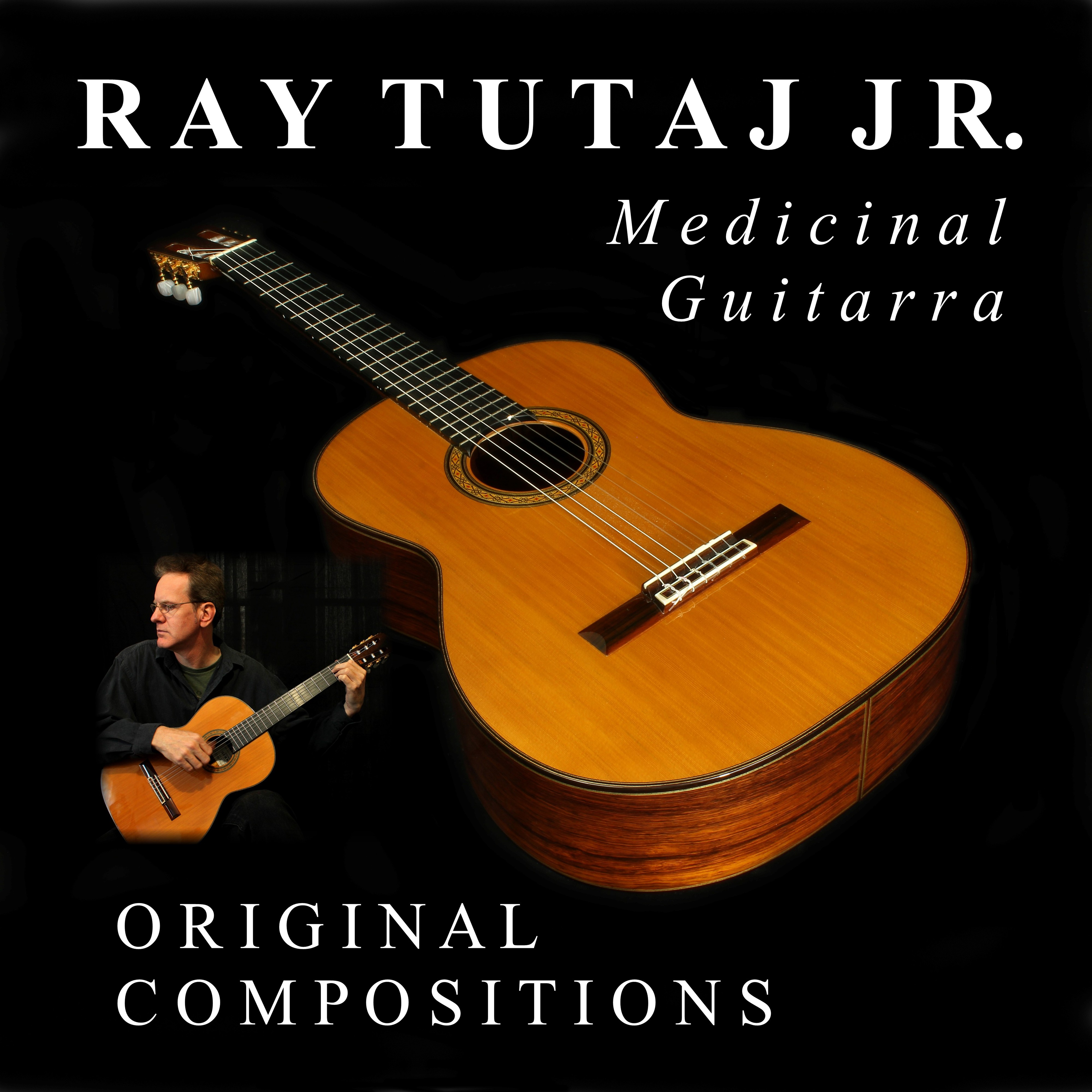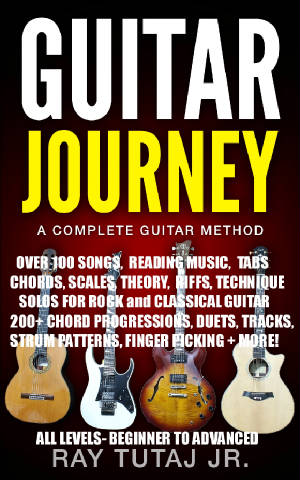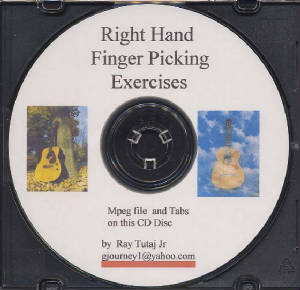 Click on the picture to find out more about this new book!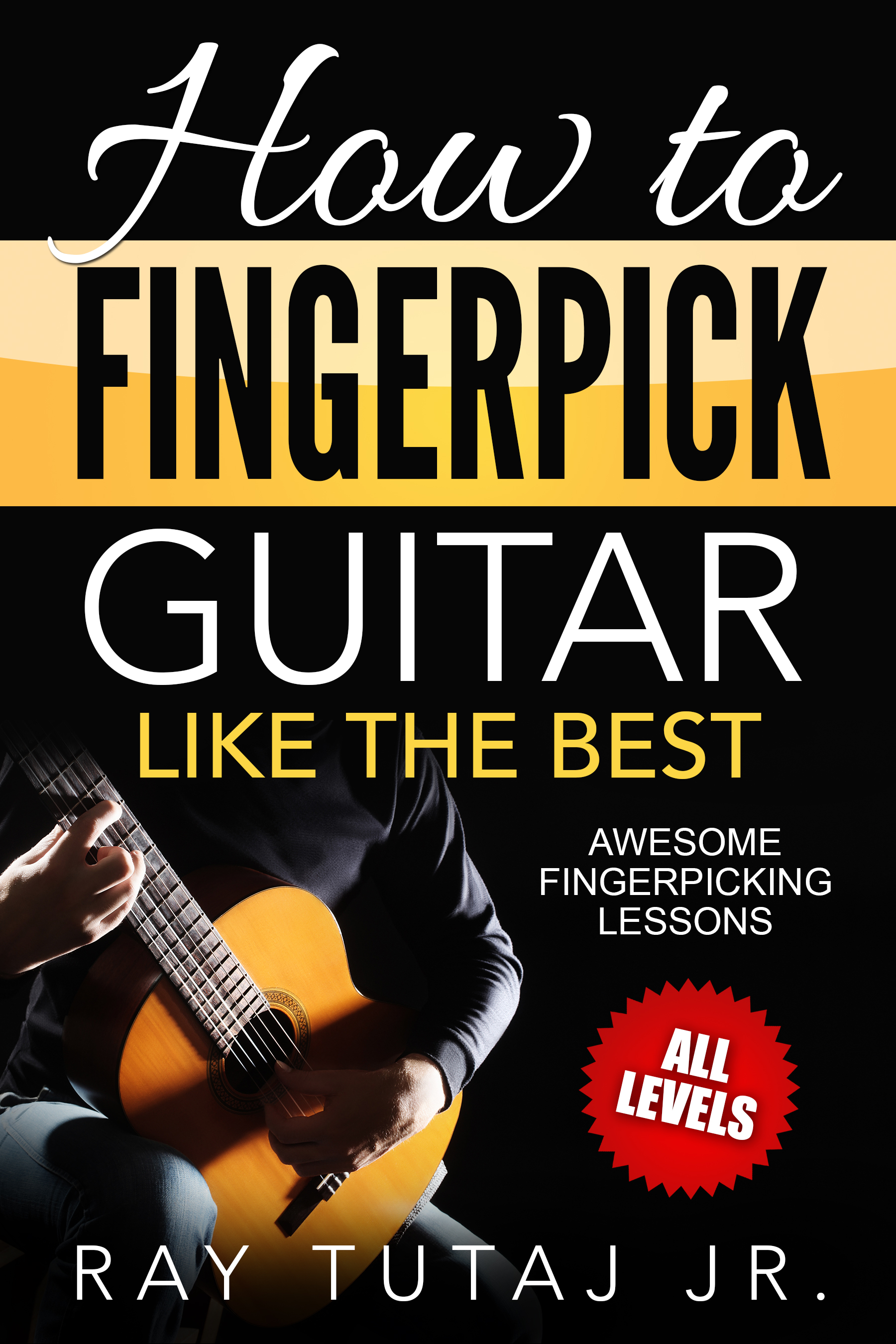 The book cover above shows my new book. It is now available at Amazon as a Kindle book right now. If you belong to kindle you can read it for free.
My Sheet Music Tabs (shortcut)
Fingerpicking Patterns Extra shortcut
Quick button purchase for Guitar Journey book on CD (CD)

Scroll down for more info on products
| | |
| --- | --- |
| | Quick button purchase for Right Hand Finger Picking Exercises DVD |
Music you can use and enjoy!
Welcome to the Guitar Journey site!
My most popular items are my
GUITAR JOURNEY BOOK on CD,
Right Hand Finger Picking Patterns DVD
and How to Fingerpick Guitar-like the best (brand new)
(Scroll down for more info)
Click here for Right Hand Finger Picking Exercises DVD
Numerous satisfied customers who have bought my popular "Guitar Journey book on CD" (scroll below) and my Right hand finger picking lesson video are happy about the contents of these products.




My newest product is a collection of 28 original fingerpicking tunes I have created over the years. I am very excited about this and I know each and every tune will help guitar players build up their technique and become better players! You get all the PDF files plus the wav forms (audio) samples to hear each piece. Many of these tunes I also have on You Tube.




Please note that I am now able to send most of my products via the internet. These large files can be delivered to you within the same day and even sooner! Or you can still have the CD delivered to you if you choose, BUT, YOU MUST LET ME KNOW!



Click here for more info on Ray's Finger Picking Tunes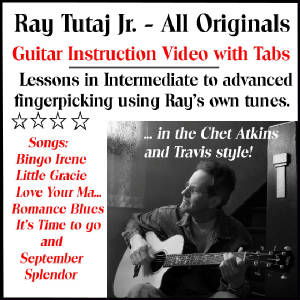 When ordering items from any of my websites you may choose to either use the paypal buttons below or simply send a money order to the following address:
Ray Tutaj Jr.
444 Creve Coeur St.
LaSalle IL 61301
If you are having any trouble ordering, or did not receive your product etc., or other questions or concerns and would like to speak with me, you may call me at: 1-815-200-5992 or email me at:
gjourney1@yahoo.com
GUITAR JOURNEY
THE BOOK FOR EVERY
GUITARIST AT ANY LEVEL.
A GREAT RESOURCE OF
INFORMATION, and you can have it the same day!
(Please note the two book covers below are for the same book!)
Why did I write this guitar method book? Because as a guitar teacher I became aware of how the older methods were boring the students with tedious and uninteresting lessons to learn. So I made it interesting and gave the students things they could use out there in the real music world. I wrote it in such a way to see the students progress at a faster rate than other methods. I also wanted a complete volume instead of 6 individual books that students have to keep buying. This is a comprehensive volume and it has something for everyone no matter what level you are. I have now also added many bonus items to the CD such as a chord book, rhythmic exercise book, new fingerpicking patterns and more!
New cover for Guitar Journey Book!
Over 75 music tracks also on CD!
Plus a free Jumbo Chord Book and more.
I have many products to help you become better at guitar playing. The Guitar Journey book and the fingerpicking DVDs are my most popular.
| | |
| --- | --- |
| | The new standard price is $19.00. This includes the GJ book on CD, the righthand fingerpicking exercises, Rhythmic exercises booklet, Jumbo chord book and more. Read further below for more information about the Guitar Journey Learning Course. Or see my Youtube Video showing the contents of this book. http://www.youtube.com/watch?v=gnf_5anSdFs |
If you're looking for other sheet music, we recommend Sheet Music Plus. They have the world's largest selection, guaranteed low prices, and great customer service. You can find Chet Atkins, Jerry Reed, Tommy Immanuel picking style books or your favorite rock band in tabs or music. You name it and they got it!
Quick links:

Once again, welcome to the
GUITAR JOURNEY website!
This site is to introduce you to our main book: GUITAR JOURNEY and other products to help you with your guitar playing. A complete learning course for those who wish to learn to play the guitar. The journey should begin here. This book is a carefully designed up-to-date method for moving students along at a very progressive rate. On this site we have made the book available for you.
The GUITAR JOURNEY book is 250 pages and jam-packed with information for all levels to last a lifetime! So please take a look around and see if you would like something . The book is currently only available on a disc in PDF format.
Click on
our products
here or at top left to view items and prices.